Any personal information submitted throught the.dreadfulgate.de will be handled very secretively: It will only be used in the context it was submitted for and never passed on to third parties. All the handling will be done by this guy: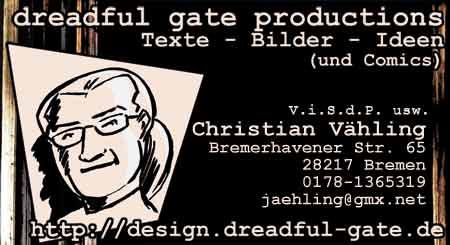 Comments and Forms
This site's comment form will temporarily save anonymized data about your IP address and user agent string to ward off spam. This is for your own convenience as well as mine because who really wants to read that crap, right? All other information submitted in the comment itself, except for the email address because that would be creepy so that's only visible to me, will be saved and publicly displayed as long as the comment is up. That's because it's a comment.
Avatars will be disabled until WordPress has found a way to make that not depend on third-party services.
E-mail addresses and personal information submitted in the mail form will be used to answer mails and stored as long as necessary for that. The newsletter has always been strictly opt-in – you'll have to check a box for that or fill in an extra form and if you do, this means you want me to use your email address to send you stuff and I'll do that. All information in mails that wasn't specifically asked for in the form is really your own responsibility.
Social Media and Third-Party Content
This site uses the Shariff plugin which enables you to share posts and pages on social media. The plugin is completely opt-in and won't collect any data about you unless you activate the service you're submitting to.
Some posts may use third-party content. These will behave exactly as you would expect it on their sites.  They may collect information or plant cookies or identify you if you're actually logged in to their service yourself. Where possible, I'll use the least intrusive embedding method that's still usable.  But these poeple change their code all the time so I may be behind on that. If it looks fishy, please notify me and I'll look into it.
YouTube
YouTube videos will only be embedded after the user gives their consent. A cookie will be stored in your browser to save this consent for a month or so. You can revoke your consent at any time by clicking here.
Once consent is given, the usual happens. The video will be transferred from YouTubes's servers in the US or whereever, which requires transmitting your IP address sothey'll know where to send it to, but it's all very hush-hush and anonymized.
Analytics
… Nah, I don't have the patience for that stuff right now. I'll deal with it later. Until then, I'm not using any analytics function on this site.
My web host. however, will use anonymized visitor stats to optimize their service for up to ten days. They assure me none of that can be traced back to you.
Transparency
You have the right to demand that I hand you all the personal information I have on you. Please use the contact form for that so I can actually have some information to hand you. Please make sure you can prove you are who you say you are because it would be ridiculous to hand out your data to just anybody in the name of priovacy.  You can also demand that I delete all of it unless commerce law or tax law demands otherwise.
Also, you can object to any and all of these data handling terms by mail (see above) in which case I'll quickly forget who you are.