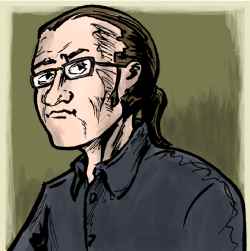 Max Vaehling (actually, it's Vähling, but we wouldn't want to make you look for that on a qwerty keyboard) has been publishing his own comics since 1999 or 2000 or 1978, depending on who you ask. His first International endeavors (unless you count the German-speaking part of Switzerland, or being bootlegged by a Brazilian fanzine) began in 2007 over at Webcomics Nation.
By education, Vaehling is a sociologist, occasionally publishing essays and articles in anthologies and online (under the pseudonym – or is it? – Christian Vähling). Some of that training has fed into comics presented at the.dreadfulgate.de as well. He's also a web designer and PHP code guy and WordPress something or other, a layouter and an editor of stuff.
Probably best known for titles like Reception Man and Conny Van Ehlsing, Monster Hunter (at least in Germany), Vaehling draws and writes all kinds of stuff, both on commission and not.